Fairbury High School
Class Of 1978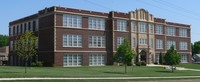 In Memory
John Ayers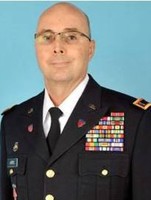 John P. Ayers, 56, of Lincoln, died Friday, September 23, 2016, at his home with family and friends by his side. He was born in Fairbury on July 1, 1960 to Ivan and Loretta (Culp) Ayers. John was a 1978 graduate of Fairbury High School. He received his master's degree in public administration from UNO.
He joined the Nebraska Army National Guard in 1982, where he served on active duty for over 26 years. He was promoted to Chief Warrant Officer Five through his 34 years of service. He served tours in Iraq, Jordan, and Kuwait. He received numerous military awards, including; the Legion of Merit, Bronze Star with 3 Oak Leaf Clusters, Iraq Campaign Medal, Global War on Terrorism Expeditionary and Service Medals. He was a member of V.F.W. Post #3606, CVMA and an active mentor in the TeamMates program.
He enjoyed time with his family and friends. His hobbies included hunting, motorcycles and model trains. He was an active member of Christ Lutheran Church.
Survived by his wife, Tami Ayers of Lincoln; son and daughter-in-law, John F. and Amber Ayers of Hickman; daughter and son-in-law, Jamie and Cody Chambers of Bennet; daughter, Mollie Ayers of Lincoln; grandchildren, Allie, Aizlyn, Jaxson, Callen, Delilah and Preslee; parents, Ivan and Loretta Ayers of Fairbury; siblings, Chris Robinson, Fred Ayers, Cheri (Mike) Williams and Jeri (Dennis) Stafford; mother-in-law, Sandy Czaplewski of Lincoln; numerous nieces, nephews and many close friends.
Visitation: 3-7 p.m., Tuesday, September 27, with family greeting friends 5 -7 p.m. at Lincoln Memorial Funeral Home 6800 S. 14th St. Service: 10 a.m., Wednesday, September 28, at Christ Lutheran Church, 4325 Sumner St. Interment with military honors following the service at Lincoln Memorial Park. Memorials to V.F.W. Post #3606, TeamMates of Lincoln, American Cancer Society or Christ Lutheran Church of Lincoln. Condolences www.lincolnfh.com.